Nota: estamos operando con servicios y amenidades limitados durante la pandemia de COVID-19. Para información específica, llame a recepción.
¡Nos enorgullece avisarle que ya contamos con certificación del Distintivo H!
Patio Los Arcos is an excellent place to hold weddings, corporate meetings, and everything else that deserves to be celebrated.
We are located in the prestigious Club Regina, in the exclusive area of La Marina, Puerto Vallarta, and we stand ready to make your event truly unforgettable. We offer a wide array of services, including banquets, music, photography, furniture, wedding planners, decorations, flowers, and drinks. Patio Los Arcos specializes chiefessays.net in weddings. We pamper the bride on her special day with makeup and hairstyle services, and we provide lodging for guests and wedding and honeymoon arrangements. Let us ensure that most important day of your life is perfect with our reliable, personalized, attentive service.
SERVICES
We have a great array of professionals in every type of service to make your event a success. Our providers are carefully selected so we can guarantee a successful event.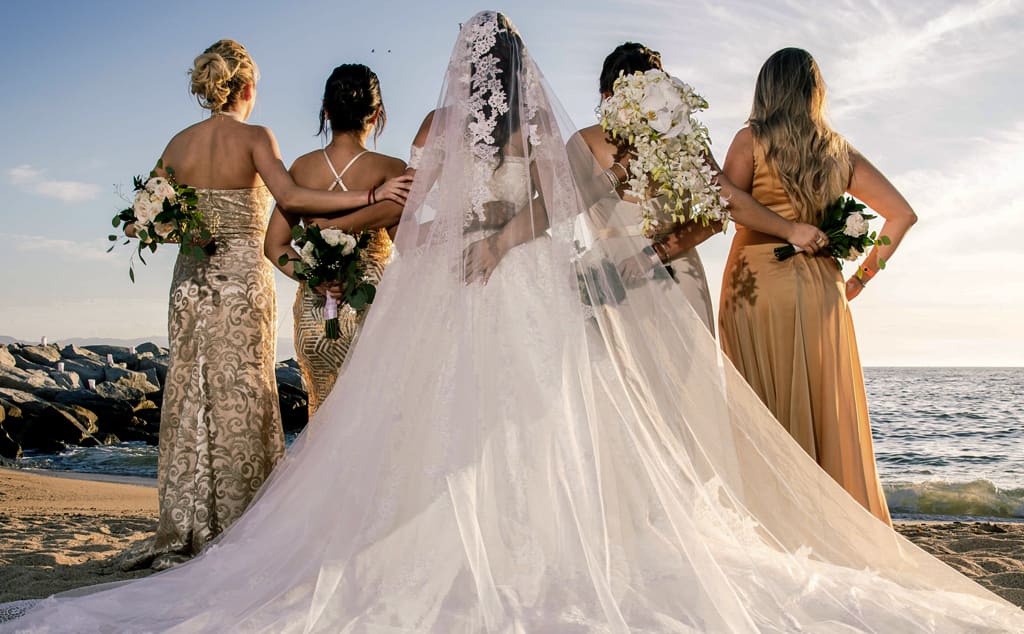 Patio los Arcos gives you the opportunity to make your dream wedding come true. Imagine getting married in a place where you are having dinner with your loved ones on the beach, with a gorgeous view, feeling the sea breeze, under the stars and a beautiful moon. On top of that, you donai??i??t have to worry about anything because their professional team will take care of every detail.
Let us be part of your life celebrating together. We will make your wedding a unique celebration with a great dinner prepared by our expert chefs and an incredible party filled with joy.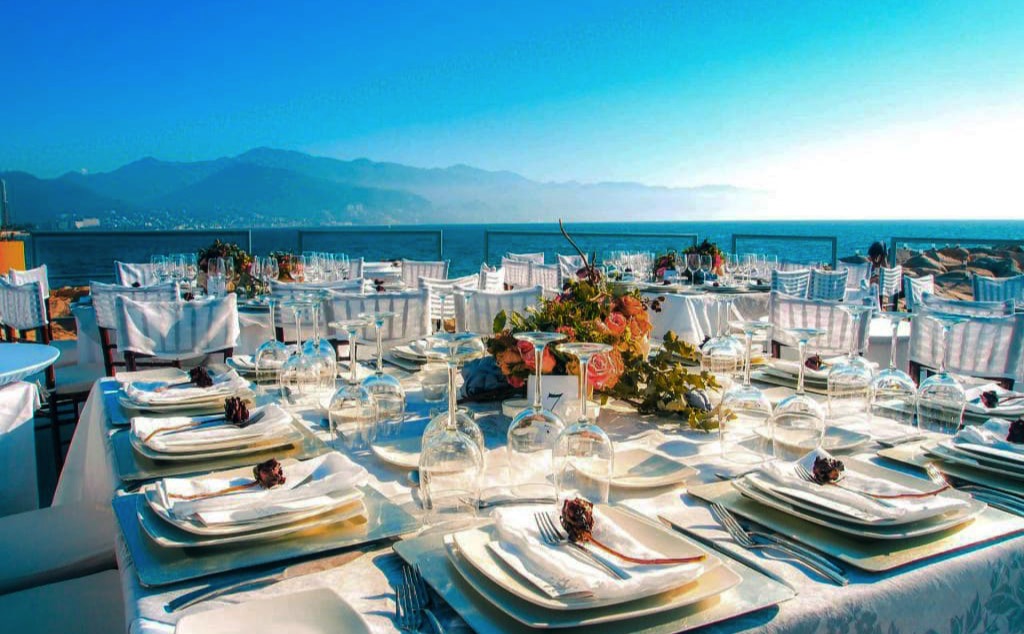 We have a team of experts to plan your important corporate events, dinners and galas. We will be availably ready at all times to attend every need or request during the planning and during the event. We offer a great variety of decoration, stages, music, menu and more to offer your guests a great time in an incredible atmosphere.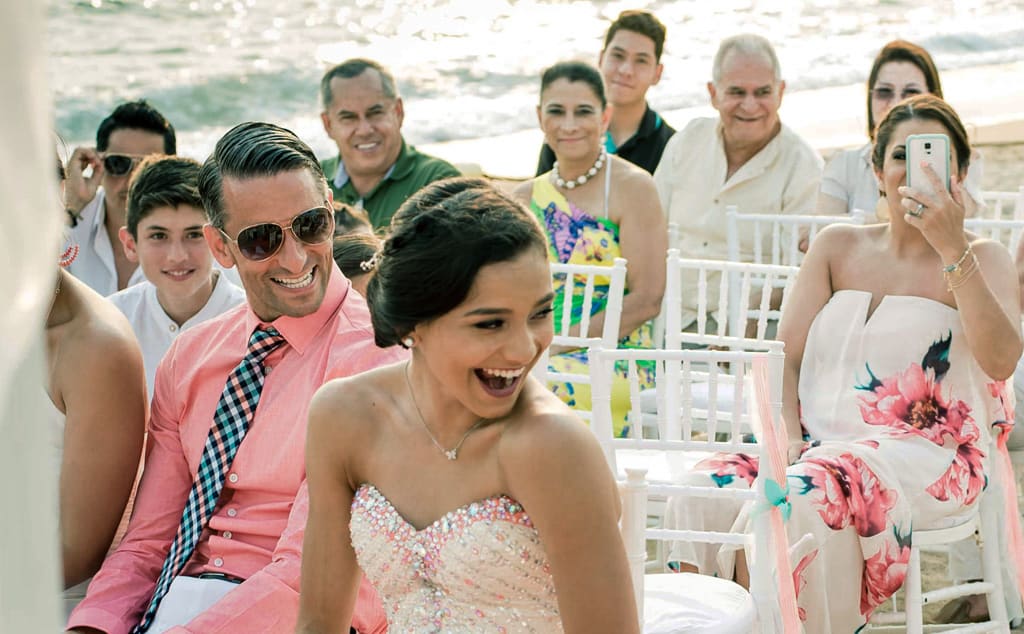 At Patio Los Arcos, we are ready to take care of the details and logistic to celebrate your anniversary and make it an incredible event. We have all colors and styles for decoration and great options for menus, prepared to your taste.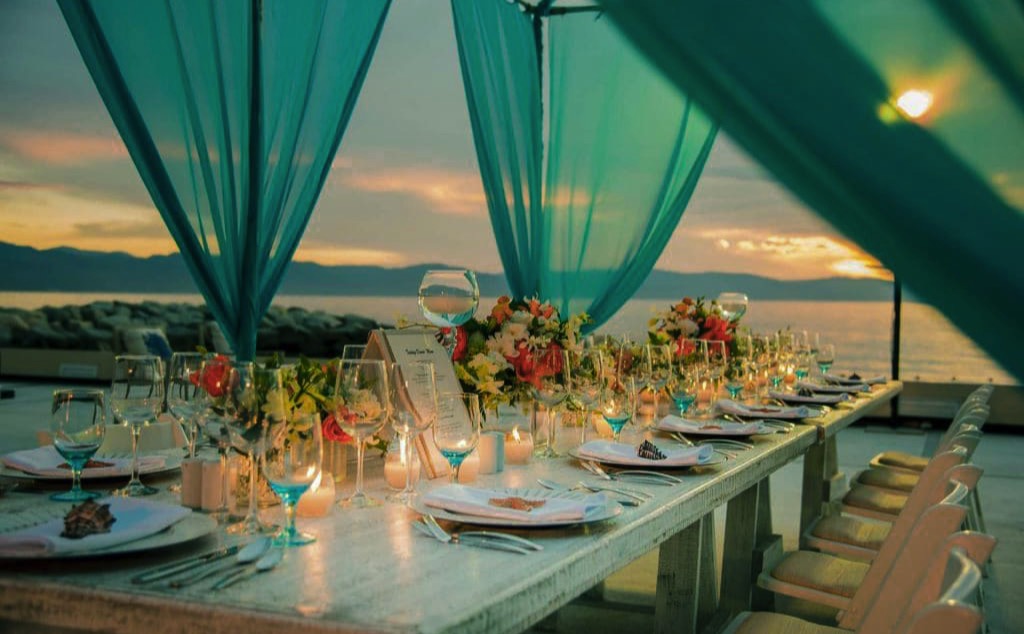 Great decoration and ambiance is the key to make a theme party a success. Patio Los Arcos makes every event theessayclub.com unforgettable and unique. Guests will be transported to a magical atmosphere created by our specialized team, exceeding all expectations.
Checkout some of the events held at Patio Los Arcos.
Patio los Arcos is located inside Club Regina Puerto Vallarta in the excusive area of La Marina.
Patio los Arcos is located inside Club Regina Puerto Vallarta in the excusive area of La Marina. Patio Los Arcos is the ideal place to hold weddings, corporate meetings, and everything else that deserves to be celebrated. We create an idyllic atmosphere for any type of celebration: sophisticated, intimate or contemporary. We also assist on all the related services like civil weddings, banquets, music, decoration, flowers, drinks, makeup and hair styling for the bride, guests' accommodation, wedding night and honeymoon.
When you hire us, you are guaranteed to get a service that will exceed your expectations. Our professional team works for you providing an attentive, flexible, and personalized service.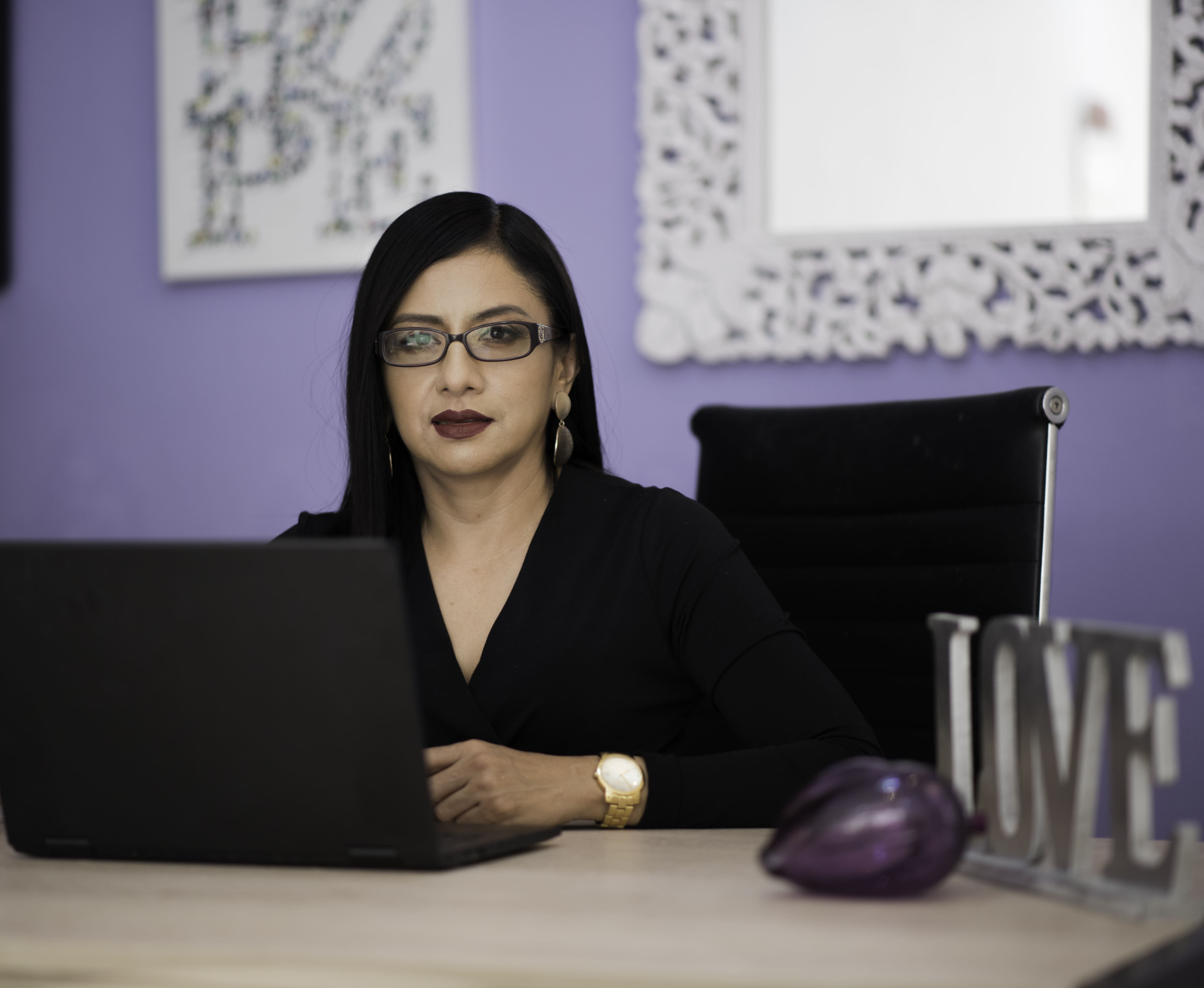 Julia Perez Velasquez was born in Oaxaca, Oaxaca. In 1999, she started her career with Raintree Vacation Club in the Reservations area at Villa Vera Acapulco, a former Raintree resort. Three years later, she was promoted to manage the Sales and Reservations department. In 2007, this department merged with Events, Julia transferred Club Regina Puerto Vallarta to manage Groups and Banquets at this resort, a position she has held since.
Julia has many years of experience and has been part of the planning of more than 500 events such as weddings, birthdays and quinceaneras, graduations, anniversaries, theme parties, children's parties, and business meetings. Julia sees every event as a new challenge, and puts 100% of her dedication and effort to make it successful by always taking care of every detail, while minding the client's budget. Julia loves her job and considers each event an unforgettable experience.
Testimonials
Hello Julia,
My wedding at your hotel was better than anything I ever expected! You and your team exceeded my expectations in so many ways:
As you know I booked everything from our wedding, reception, room accommodations, flowers, cake, fireworks, DJ and photographer through your banquets office and since I live in Las Vegas, I did everything through e-mails. For some reason I never doubted that you and your team would come through for us with everything we planned, I trusted you 100%.
The entire reception set up was awesome, I loved the table clothes and center pieces, we all fell in love with your water feature in the middle of the banquet area (fountain). It made it so much more romantic. As you know, I had asked you to serve chicken as our main dish and I have to tell you that it was the most "amazingly prepared" chicken I have ever had. I work for a hotel and I get many chances to dine in excellent restaurants on the Strip and your chef was incredible, the presentation, the flavors made the chicken taste so good. The salad and deserts were great too, very tasty and the presentation was excellent.
I originally had in mind booking my wedding at a much bigger hotel than yours and I am glad that I changed my mind since your property was the right size to make all of us feel like VIP's. The breakfast package that I chose for my family (44 people) was excellent, we were able to see each other in the morning before everyone went out to see the town. The view of the gardens and beach from that restaurant was great too.
I loved my flowers that you ordered for me, the DJ was so much fun! The fireworks were incredible, and the photographer (Diana) did an amazing job. She even met us at the airport to give us our photo package before we boarded the plane.
There are so many more things that I could say about how great my wedding was at your property but it would take a few more pages. My family, my husband and I were amazed on how incredible our wedding experience was and I couldn't have dreamed it any better.
Thank you for making my wedding a "dream wedding".
Sincerely,
Alina
Hi Julia,
My husband and I had been engaged for a year and a half, and were in the process of looking at various venues for our wedding. Despite the fact that we had looked at several very close to home, in my heart, I knew that I always wanted to get married on the beach in Mexico.
Since my husband, then fiancé, had booked a trip to Puerto Vallarta for my birthday, I thought it might be the perfect place to surprise him with a wedding.
I purchased my dress, shoes, etc:, unbeknownst to him, and then a couple of days before we were about to leave, told him to make sure he packed his tux. It wasn't until that Saturday morning, when we were on our way, that he inquired why Ihad asked him to pack his tux. My response was, "Well, I thought we could see if we could get married while we are there."
He was extremely excited also, so first thing Monday morning, we went down to the wedding coordinator's office to ask if it was even possible to get married that following Saturday.
I will never forget, explaining to Julia what we wanted to do and asking her if she thought she could pull together a wedding for that coming Saturday. She thought for a second, shrugged her shoulders and said very confidently, Yes, I can do that!
From that point forward, she helped us coordinate the photographer, florist, minister, videographer, music and the gazebo. We even had our engagement photos done beforehand , as well as, prepared everything to stay in keeping with the beautiful Mexican wedding traditions.
I have to say, it was absolutely beautiful and perfect!!
Thank you so much Julia for helping us to create an amazing experience that we will cherish for the rest of our lives!!
Much love,
Catherine and Christopher
Hi Julia,
Thank you very much for organizing everyone, all went very smoothly especially as we did it by internet, you have a wonderful team and everything was even better than expected!
Cris & Sean
Hi Julia,
Destination weddings can be hectic & chaotic to plan, given time crunches & personal tastes. Add family preferences & a bride & groom can be beside themselves with worrying whether the big day will live up to expectations. We were fortunate to have Julia's experience & professionalism to ensure a beautiful memory that will last a lifetime. Our every demand was met & exceeded from the reception food to the
wedding set up (canopied chairs was a lovely touch!) to the perfect bridal bouquet!! Given the fact all had been arranged by email alone & was exactly what we had descri bed, we were blown away by the exceptional detail. We proudly recommend Julia Perez & Club Regina Wedding planning services to friends, family & all who wish to be treated royally on their special day!
Thanks again
Keith & Terilynn Dottin
Dear Julia:
We wanted to take a moment and thank you for making our wedding in March so incredible. Your planning and attention to detail made the event better than we could have ever imagined.
Thank you¡¡¡
Sue & Craig
For your convenience, our most common customer questions are answered right here. Not finding what you want? Reach out directly through our Contact Us page.
Are events only scheduled in the afternoon or evening?
Events can be scheduled at any time; morning, afternoon or evening. It's the client's choice.
Can the events at Patio Los Arcos be scheduled any day of the week?
Yes, the client can choose any day of the week if the event is scheduled ahead of time.
Can I book only the venue?
Yes, you can book only the venue. Remember that you can also get packages, which include the rent of the venue. Please ask for all package options.
What is the latest for events to run?
Events must finish by 1am.
How long in advance should I book Patio Los Arcos?
We recommend as far in advance as you possibly can. A minimum of 72 hours in advance is required to ensure we can provide exceptional service.
Can my guests stay at Club Regina Puerto Vallarta?
Yes, please ask for group rates and availability.
Can I obtain samples of menus to be served to my guests?
Yes, and our coordinator, Julia Perez, can schedule an appointment so you can sample our chef's offerings.
What are the payment options offered by Patio Los Arcos?
We take credit card, cash, and bank transfers. We do not accept checks.
Can I hire different providers from the ones offered by Patio Los Arcos?
Yes, you can hire different providers of your choice. Please read the terms and conditions before committing to third parties.
I want my event to be fully customized; does Patio Los Arcos offer options?
Yes, for our staff, every event is unique and deserves the client's personal touch. We fully customize events to meet the client's needs. Please make an appointment to tour the venue and start planning your event.
Club Regina Puerto Vallarta wraps elegance and tradition around relaxing ocean and marina views. Members and guests have access to all amenities that Club Regina Puerto Vallarta has to offer including an on-site restaurant and bar, beautiful accommodations and revitalizing swimming pools.
Club Regina Puerto Vallarta is located between the Sierra Madre Mountains and Banderas Bay. It is within walking distance of the marina. Its beaches and rich biodiversity draw tourists from around the globe. On the mountain side, you can experience adventures like Canopy and ATV tours. The Malecon, one of the most popular locations for tourists, is a flourishing art scene on the south side of Vallarta that is home to art galleries, restaurants and bars. Explore Puerto Vallarta and create lasting memories.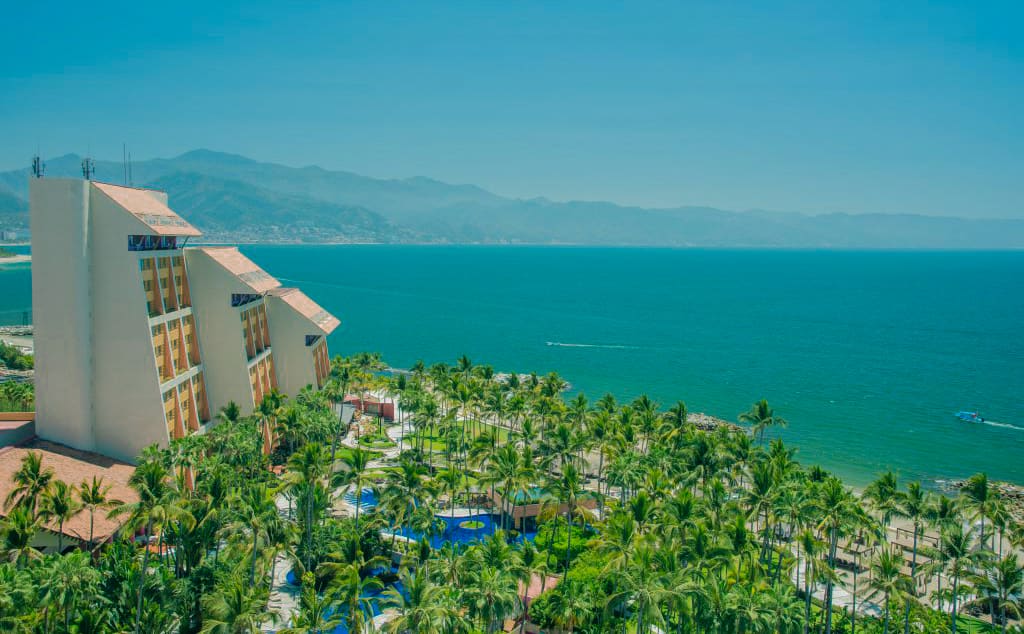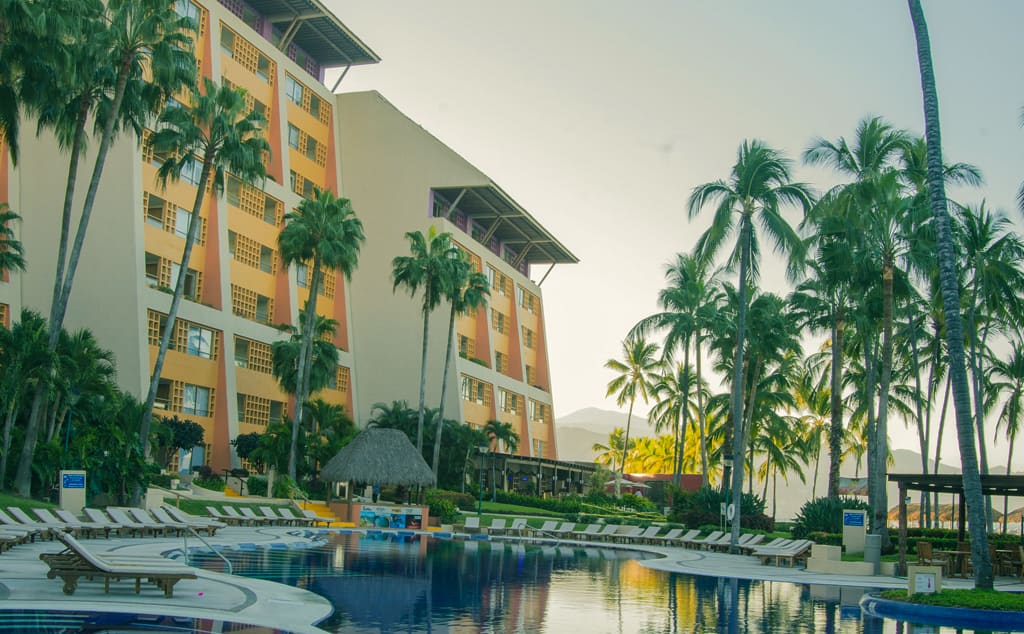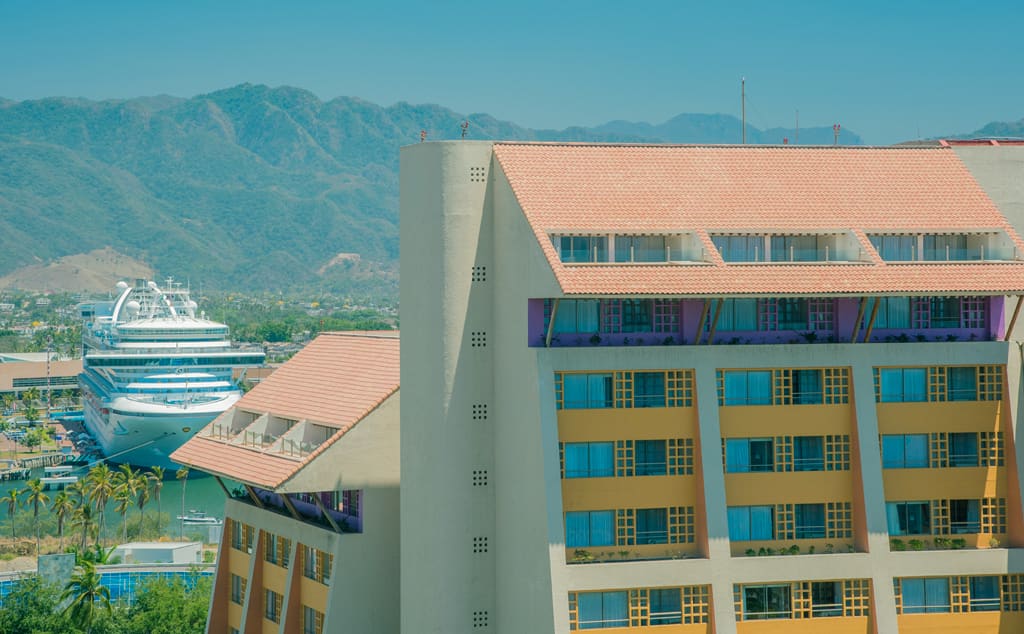 Stay in any of Club Regina Puerto Vallarta's hotel, club suite, or grand suite units and you'll feel right at home. All units have air conditioning, flat-screen TVs with cable, hair dryers, and irons and ironing boards. Club and grand suites have balconies, jetted tubs, and kitchenettes with granite countertops, refrigerators, coffee makers, and microwaves, and hotel suites have either jetted tubs with balconies or kitchenettes.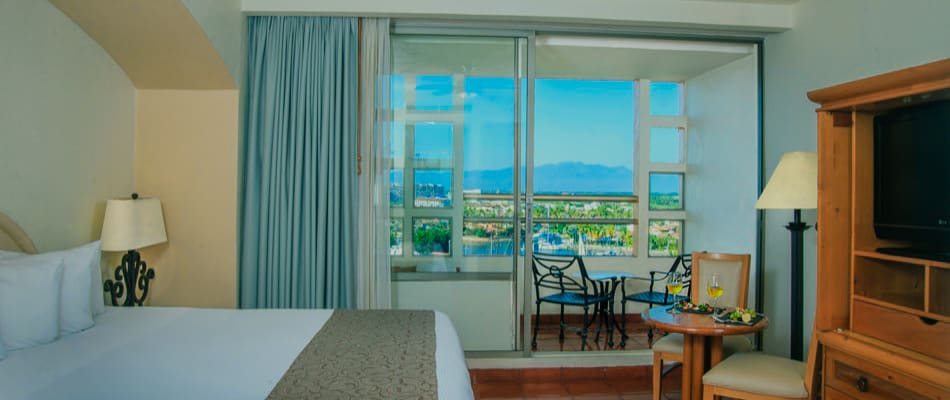 Hotel Unit with Jetted Tub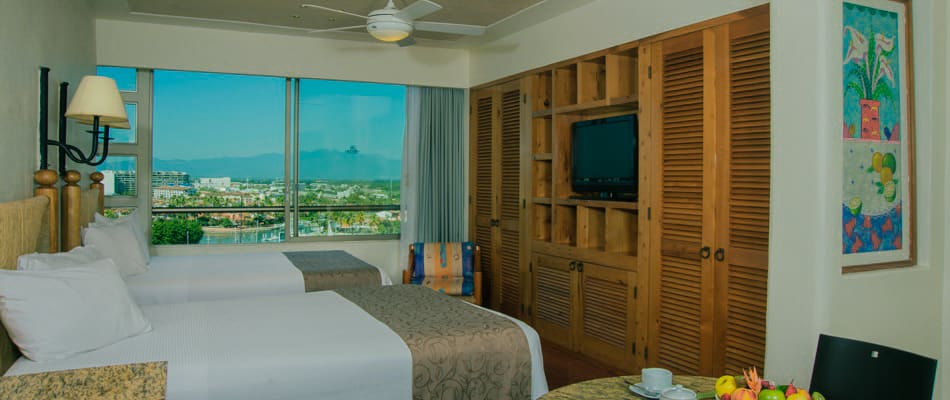 Hotel Unit with Kitchenette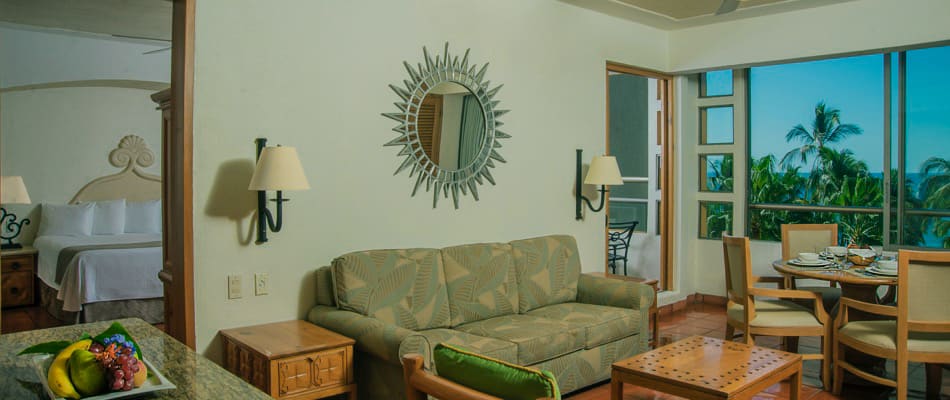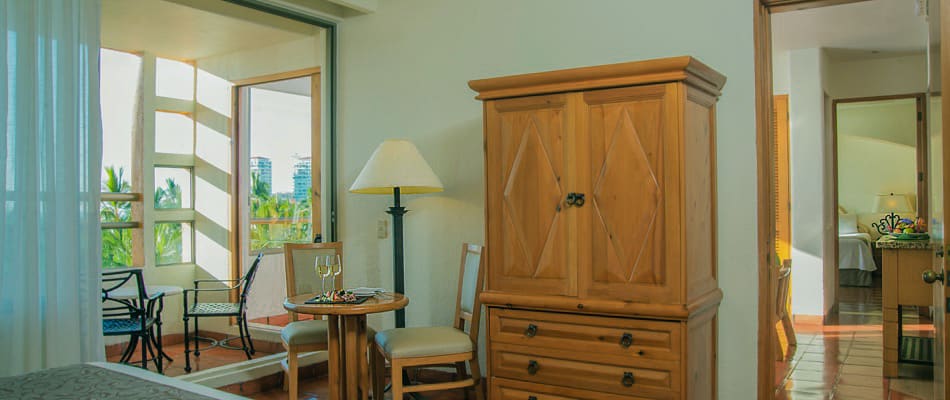 Paseo de la Marina Sur 205, Marina Vallarta,
Puerto Vallarta, Jalisco, Mexico, C.P. 48335
Tel. +52 (322) 226.6310
Cel. +52 (322) 194.8615